Action to My Dreams
Micro farming with Suburban Permaculture in Jacksonville, Florida
Saturday, August 6, 2011
I found aphids under a leaf of a squash plant this morning. At their earliest stage, they look like tiny yellow insect eggs. I looked at mine under a microscope to see just what I was dealing with. It looked a lot like the YouTube video I posted. I don't have the ability to video what's under my microscope but someone sure did a great job and posted it.
Aphids
Aphids can do a lot of damage to plants if you let them. But fortunately there are many ways to get rid of them. They are very delicate creatures and can be killed just by aiming a steady stream of water on them. The only problem with that method is you can also damage some plants by hitting them with too much pressure.
The easiest fix is to enlist some beneficial insects to take them out. There is a long list of insects that will eat their fill in aphids. Lacewings, hover flies, ladybugs and may more will hang out and clean up your plants.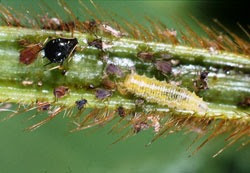 The Caterpillar looking thing is actually a hoverfly
When I looked at my squash leaf under the microscope I saw mingling amongst the aphid hoard what looked like a tiny caterpillar. My first thought was that I had more than one bug invader. But under further investigation what I found out was it was actually a hoverfly larvae. So maybe my no spray practice is working better than I thought.
If you aren't ready to trust your veggies to other bugs to keep safe, you can always spray them with a mild organic soap or oil. That will essentially suffocate them. If you go this rout be sure to spray in the morning or in the evening and not in full sun. Otherwise the soap or oil can intensify the sun's rays and burn your plants.
Of course you can use just about any form of pesticide on the aphids. Any combination of hot peppers, garlic, soap or oil can be used successfully. And if you think you must, you can also use harsher forms of pesticides. But why would you want to if you don't have to?
- Posted using BlogPress from my iPad
Posted by

DWS
at 1:36 PM
1 comments


Links to this post
Posted by

DWS
at 1:04 PM
0 comments


Links to this post